Noyes Park
With home plate located on the corner of East Hamilton Ave and Park Street in beautiful Sherrill, NY the Noyes Park baseball field sits in the heart of the Sherrill community. On any given summer day, you can take a stroll to the park and stumble upon America's pastime being played as it has in Sherrill since the late 1800's. Noyes Park boasts the NYCBL's oldest and most historic ballpark. What once fielded the semi-pro teams of local businesses like Oneida Ltd. now hosts the next generation of ballplayers as the home park of the Sherrill Silversmiths. Sit in the stands, walk the outfield fence, or lay out your blanket and spend a summer's day with us as we continue the historic tradition of playing baseball the way it was meant to be played.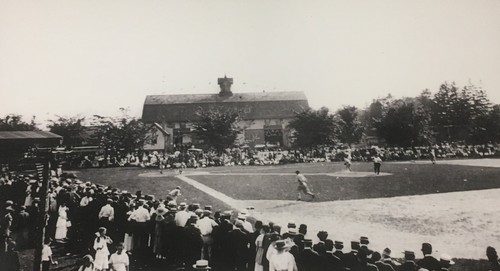 Noyes Park, 1919
About the Silversmiths
The Sherrill Silversmiths are a 501(c)3 Not for Profit Organization taking part in the NYCBL, a league funded in part by Major League Baseball and sanctioned by the NCAA. Each summer the Silversmiths and the Sherrill Community welcome baseball players from colleges and universities across the country to aid them in their development. The Silversmiths have had 7 former players move on to play professionally, 4 players have been selected in the Major League Baseball Amateur Draft, and currently have 4 former players playing in Minor League Baseball.
Quick Links
Find Us
Sherrill Silversmiths
139 E. Hamilton Ave
Sherrill, NY 13461