Front Office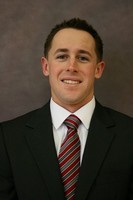 Dennis Duffy
President
E-mail:
Dennis Duffy became the 3rd President of the Silversmiths Board of Directors in August of '15. He was a 3-year player for the Silversmiths, joining Vice President Mike Sherlock in this regard. Dennis was an Assistant Coach for the Silversmiths in 2012, taking over as Head Coach in 2013. A graduate of American International College in 2012, he is currently an employee at Eastman Associates, Inc. as an Accountant. In 2017, Duffy was elected as Treasurer of the New York Collegiate Baseball League. He currently resides in Oneonta, NY with his girlfriend Jackie.
About the Silversmiths
The Sherrill Silversmiths are a 501(c)3 Not for Profit Organization taking part in the NYCBL, a league funded in part by Major League Baseball and sanctioned by the NCAA. Each summer the Silversmiths and the Sherrill Community welcome baseball players from colleges and universities across the country to aid them in their development. The Silversmiths have had 7 former players move on to play professionally, 4 players have been selected in the Major League Baseball Amateur Draft, and currently have 4 former players playing in Minor League Baseball.
Quick Links
Find Us
Sherrill Silversmiths
139 E. Hamilton Ave
Sherrill, NY 13461